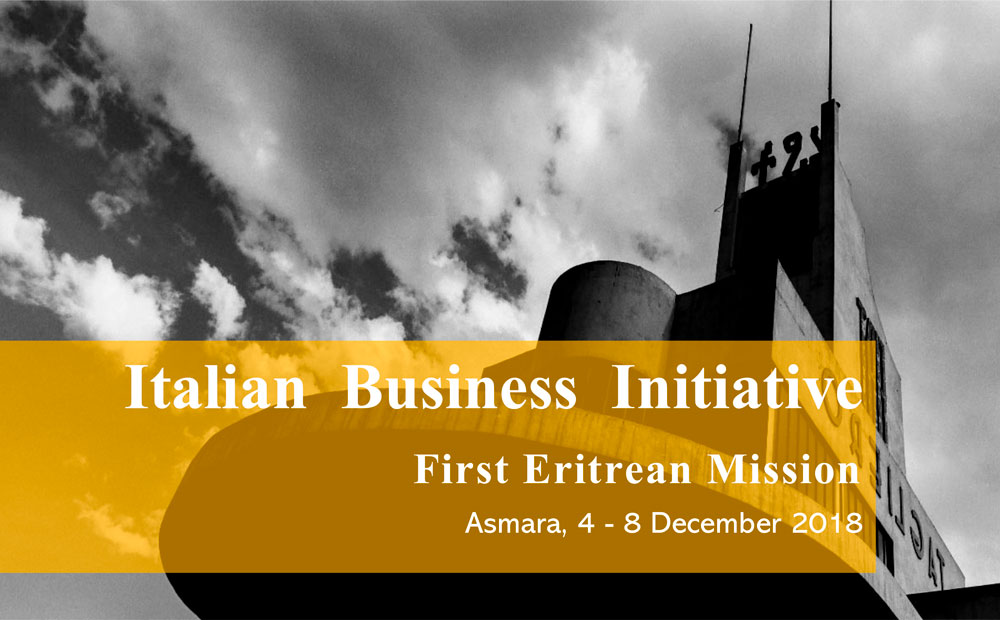 Italian Business Initiative
---
First Eritrean Mission
Asmara, 4 – 8 December 2018
Involving many enterprises representing several economic sectors, the First Italian Business Initiative aims to start a process of creating Italian & Eritrean business opportunities and joint ventures to actively participate in the development of Eritrea.
A second Mission will be programmed with companies not been able to participate in this Initiative in accordance with the Eritrean authorities in March 2019.
After a general overview of the Mission and a presentation of the opportunities created following the Peace and the Tripartite Agreement with Ethiopia and Somalia, the agenda will focus on the companies involved and on projects ready to start operations.
B2B sessions will follow with the interested Eritrean counterparts.
Time constraints will not prevent us from seeing at least the beautiful city of Asmara which has recently become part of the UNESCO World Heritage.
We wish you very productive days in Eritrea, a country full of resources and friendly people, with which we share strong historical foundations.
Piccini Group

Business catalog
---
AGRICULTURE & RELATED SYSTEMS
CASILLO GROUP | Production of cereals and derived products
GIUNTI | Irrigation systems
SITREX | Farm machinery
GOLD ENERGY | Fruit & Vegetables
VINCENZI & GIBERTINI | Irrigation system
FOOD & FISHING
DIVELLA |Production of pasta and bakery products
DULCINEA | High Quality Chocolate production
FEDERPESCA | Association of companies in the fisheries sector
ROTA GUIDO | Meat processing
FRUTTITAL | Large distribution of fruit and vegetables
GRIFOLATTE | Milk and dairy products
GORETTI | Wine production
UNIVERSAL PACK | Packaging
GRIGI GROUP | Feed, milk, eggs, cereals
ALL FOOD | Collective and commercial catering
FAROPLAST | Packaging
HEALTH & WELLNESS
AMINO CHEMICAL |Medicinal and pharmaceutical products
OPERAMED | Medical equipment
WINE THERAPY |Cosmetics and beauty lotions and creams
MOBILITY | RAILWAYS
CEMES | Railways Electrification systems
ITALFER | Railways
MERMEC GROUP | Railway diagnostics
SINTAGMA | Railways engineering
MOBILITY | AIRWAYS
ENAV | Flight control and safety
MOBILITY | ROPEWAYS
LEITNER | Ropeways
MOBILITY | SEAWAYS AND HARBOURS
INGEMAR | Pier, Wharf & Landing stages
INTERPROGETTI | Harbours
GRANCHI | Boat builder
ENERGY
PQUADRUM | Solar Energy plants
ENERGY VAULT | Solar energy storage
TECNINP | Biomass
SPI | BIOMASS
ENEL GREEN POWER
MACCAFERRI
AUTOMOTIVE
IVECO
ASTRA
OFFICINE PICCINI
NEW HOLLAND
WATER
CEA | Water depuration
IRIDRA | Phyto depuration
VERAGON | Mineral water from air humidity
GIOVANNI PUTIGNANO & FIGLI | Wastewater treatment plants
F.LLI TENERINI | Pipeline
HOSPITALITY AND TOURISM SERVICES
ALPITOUR | Tour operator
LUXURY MANAGEMENT HOTEL | Hotels and resorts management
SMART HOSPITALITY SOLUTION | Hotels and resorts management
VOI HOTELS | Hotels and resorts management
VENTURINI | Underwater tourism & Diving
CONSTRUCTION
PICCINI GROUP
SHESA
GRUPPO ITALIANO COSTRUZIONI
GASPARUCCI
COOPERATIVA EDILE APPENNINO
TEXTILE, LEATHER & CLOTHING
CIMADAMORE | Shoes
ITALPROGETTI | Leather
LANIFICIO BECAGLI | Wool and clothing
SDOORS & WINDOWS
LAMACISTE
ZANINI
MATERIALS PROCESSING
VETRERIA PIEGARESE | Glass production
HOUTE MATERIALS | Wood processing
HENRAUX| Marble processing
ELCOM SYSTEM | Sandwich panels
INDUSTRIAL PLANT & STEEL CARPENTRY
MACCAFERRI
OFFICINE PICCINI
MEP
BETA PROGETTI
METAL WORKS
METALSERBATOI
RI GROUP
BUILDING RESTORATION | QUALITY CONTROL | WORKS SUPERVISION
INNOVATIONS | Research & Development
EXPERIMENTATION | Laboratory testing & quality control
R&D, EDUCATION AND TRAINING
CENTRO EDILE PER LA SICUREZZA E LA FORMAZIONE | Training
ITALIAN UNIVERSITIES | Higher education
NATIONAL CENTER FOR CULINARY EDUCATION & CULTURE
INTERCAMPUS | Football school
OTHER SECTORS
SACI | Production of detergents
GESENU | Waste Treatment and Management
SISTEMA EVENTI.IT
ITALIA ENDURANCE STABLES & ACADEMY
LITOGRAFIA ARTISTICA CARTOGRAFICA | Cartography
AARUS GEOPHYSICS
GEORISORSE
GEOMAP
DOMIZIANI | Artistic Ceramics